Ryan Bellegante
Nami Ryu Seminar

 
Seminar topics will focus on Kodachi, Nage Waza, and Breath in classical movement.
March 4th & 5th, 2023
Open to All
$120 per person
Sign Up deadline is the day of.
About Ryan Bellegante: A 20+ year student and teacher under James Williams sensei, Ryan has a wealth of knowledge and works well with students who have been practicing less than 15 years. He has been invited to Sato Bu Kan to foster knowledge and grow the fundamental skills of students in Seattle.
Growing up in Northern Nevada, Ryan Bellegante was influenced the most by the martial arts and chanbara (チャンバラ) Japanese Samurai movies he loved to watch. He started at a very young age studying and training in karate and migrated to aikido in his teens. However, feeling the void in unarmed martial arts, his love of the sword drew out his search in his college years. Finding out about Nami ryu, Ryan made the decision in 2003 to move to Encinitas and build his entire life around training at the Nami ryu Hombu Dojo.
Training at the dojo 5 days or more a week, Ryan Bellegante rapidly progressed in his training, and became an instructor in record time……but not without putting in all the hours of training and sweat equity needed to learn and own the basics. Opening his own dojo back home in Reno in 2008, Ryan added trips to Japan to study with Kuroda Tetsuzan sensei along with other senior Nami ryu instructors in the koryu Shinbukan Kuroda family arts. His dedication to the sword arts and all things Samurai is the gold Ryan has mined in his training, the culmination of a childhood dream turned into effort and delivered results.
If you are a young person of any age wanting to follow your dream, through the doors of time to train like Ryan in the arts of the Samurai, you can join his very personal school and training regimen in Reno, NV. You can make contact with Ryan Bellagante sensei through his web site at
https://sites.google.com/site/samuraiartsofreno/
or by calling him at (775) 338-1772.
Sato Bu Kan Dojo
Alpha Martial Arts Ballard
7555 15th Ave NW, Seattle WA 98107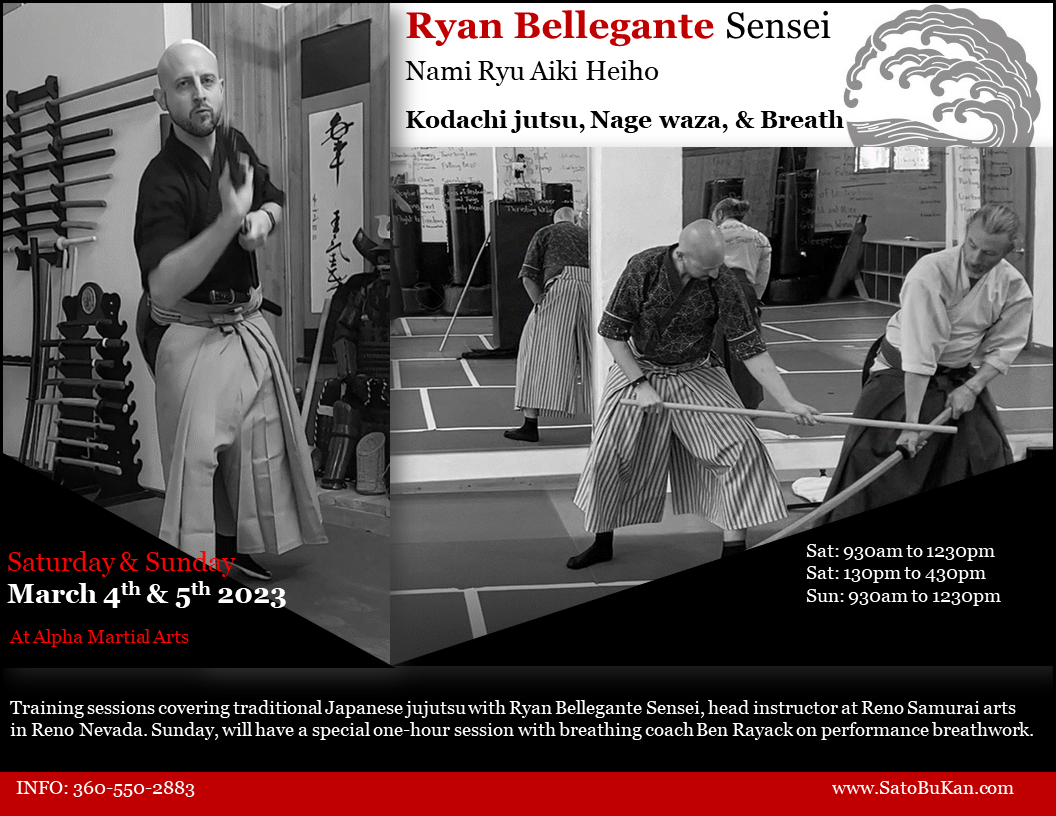 Weekend of Training - June 19 and 20
Saturday 900am to 400pm with lunch at noon for 1 hr.
Sunday 900am to noon
Email: SeattleSamuraiArts@gmail.com  
Call: (360) 550-2883
Or Book Online:
LEVEL ONE SELF DEFENSE:
WOMEN ONLY
Skill, Mindset, and Strategy
Namaste Yoga Studio and Sato Bu Kan Dojo
18021 15th Ave NE
Shoreline WA 98155
Price: $150 per person
Three Days:
Mon Jan 16th 6-8pm,
Sat Jan 21st 9am - noon,
Mon Jan 23rd 6-8pm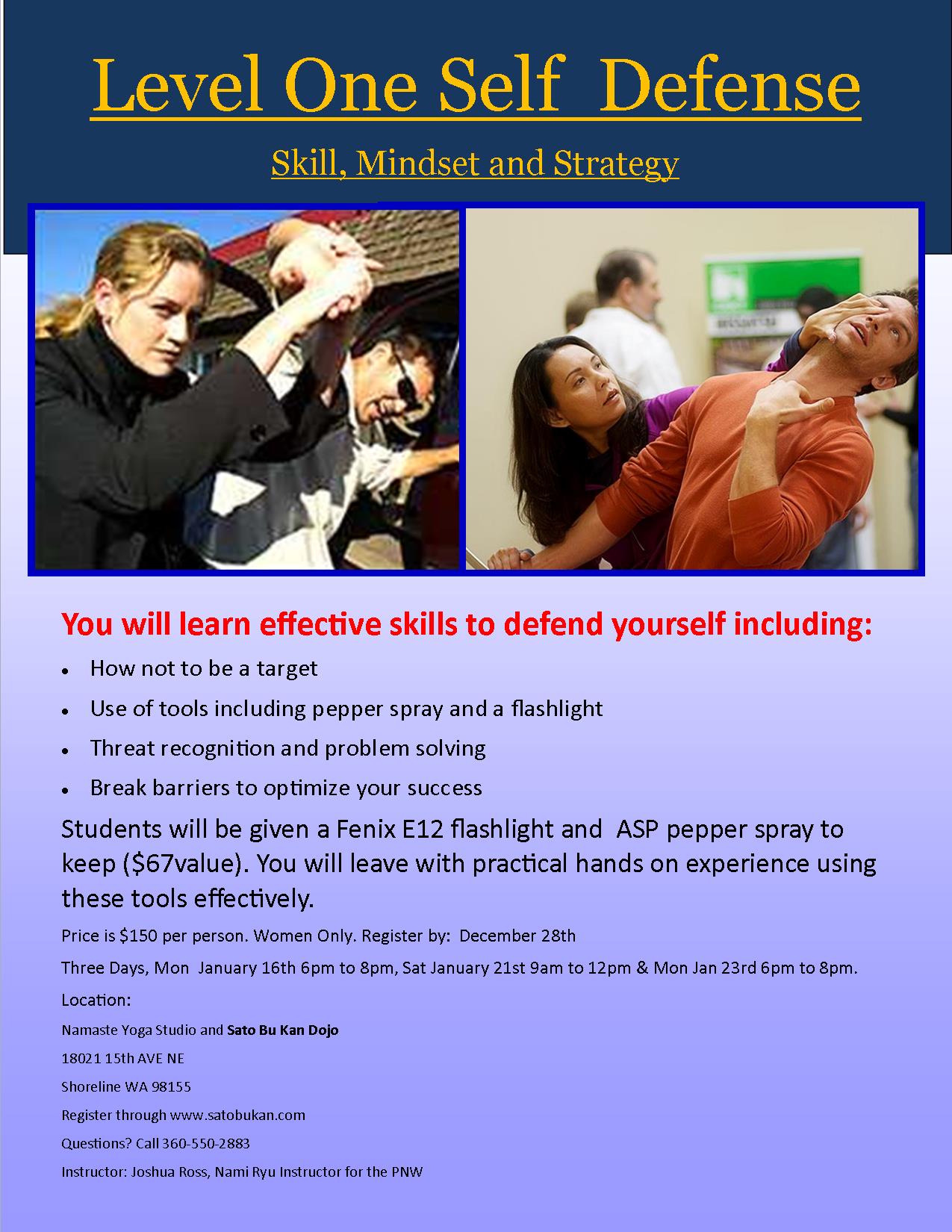 Email: SeattleSamuraiArts@gmail.com  
Call: (360) 550-2883
Or Book Online: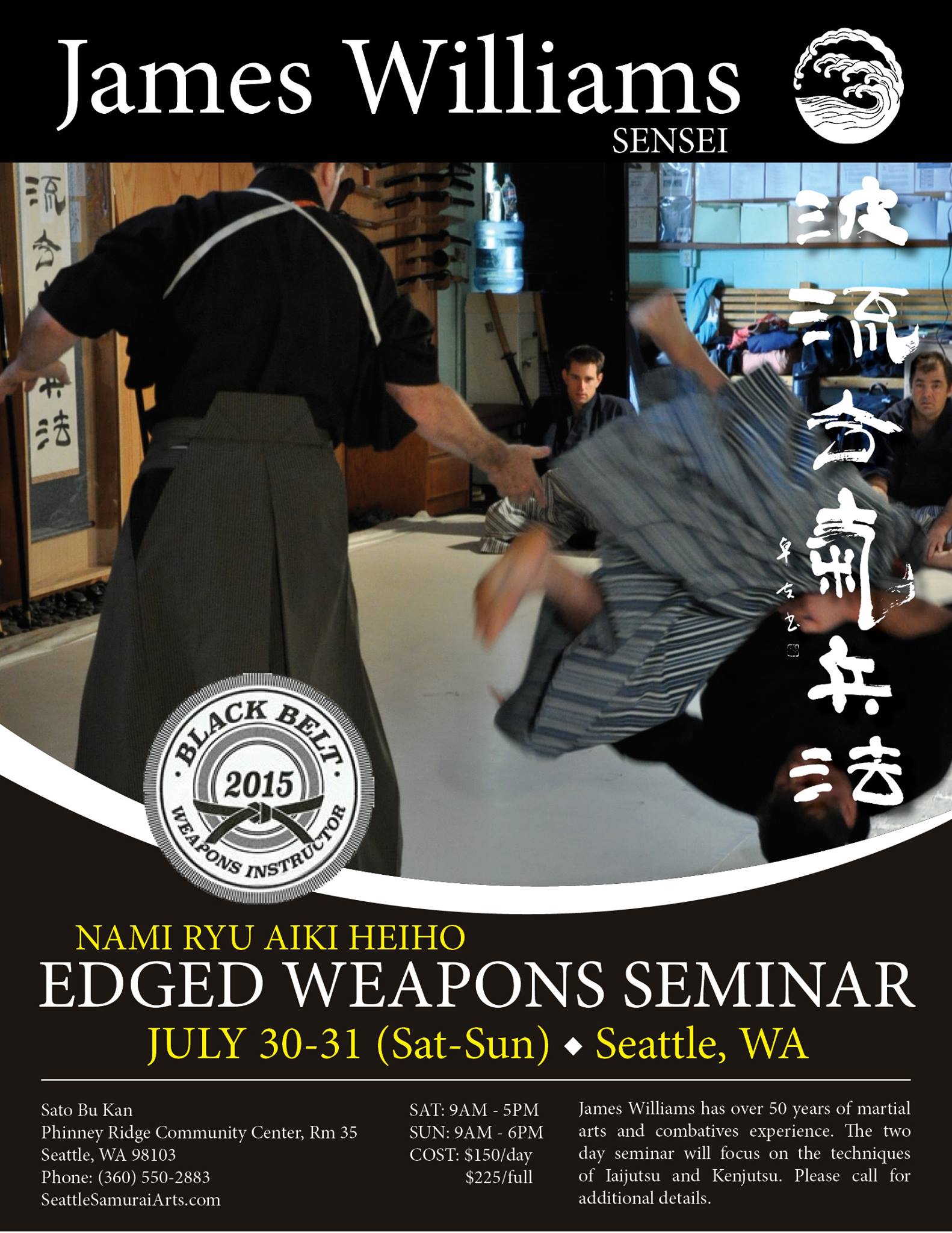 Williams Sensei will be in Seattle July 30th and 31st for a two day seminar. Please see the flyer for more details. One day will focus on knife work and the other day on sword work. This is an open seminar to anyone interested in Japanese arts.
Take advantage of this opportunity to train with the Black Belt Magazine 2015 weapons instructor of the year!
Edged Weapons Workshop - July 30th & 31st, 2016
Thank you to everyone who helped make our November edged weapons workshop a success!